While editing a SolusVM server in Clientexec, you will see a new (optional) field


Here, you will add the name of the new custom field you will create to store the Location of the VPS and save the server.
Under Settings -> Products -> Custom Fields, create the new product custom field as a drop down type, like below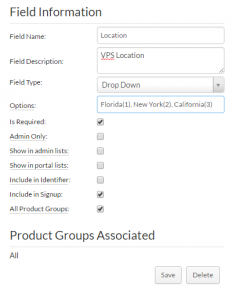 The options should be a comma separated list of "Location(SolusVM Node Id)".  Once this has been saved, make sure you associate your new product custom field with the product group.
This will now allow your customer to select a different location (or node group) when ordering!
New Features
What's the next feature you want to see in Clientexec? Post on our Feature Request System and make your dream feature come true!