The web control panel you use can make or break your server configuration and hosting account experience. As such, it's important to choose the right one. Narrowing it down to two of the industry's most popular options, cPanel and DirectAdmin, is easy. However, deciding between the two can be tricky.
Of course, there are many factors that will influence your decision. Taking the time to understand the unique features and differences between the control panels can simplify your decision-making process, and position you to make an informed choice.
In this post, we'll discuss cPanel vs. DirectAdmin, explaining the main features, advantages, and drawbacks of each, and seeing how they compare in three key areas. Let's get started!
An Introduction to cPanel vs. DirectAdmin
As far as web hosting control panels go, cPanel & WHM is simply unmatched when it comes to popularity:

It's used by some of the biggest and best hosting providers in the industry. It's easy to navigate, making it beneficial for everyone, regardless of ability.  cPanel is only officially supported on Linux.
As for web servers, cPanel supports Apache and LiteSpeed (with a paid license). Support for Nginx is in the works and could be coming soon, however, it's currently in beta so it's unsupported.
Free SSL certificates
A brute force protection tool to let you whitelist or blacklist countries, IP addresses, or accounts
Domain management and External DNS synchronization
Server monitoring tools
Secure Remote Assistance
Next, we have DirectAdmin: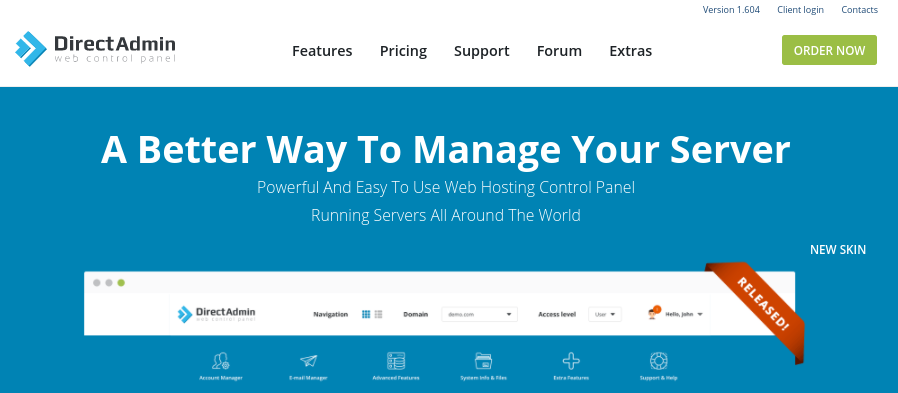 This lightweight control panel also supports Linux and offers free SSL certificates (via Let's Encrypt). DirectAdmin features include:
DNS administration and clustering
IP manager
Reseller packages
Multilingual interface
Flexible licensing options
Integrated ticketed support system
Customization options
Automatic recovery from crashes
In addition to the web servers cPanel supports, DirectAdmin also supports Open LiteSpeed and Nginx Reverse Proxy + Apache.
cPanel vs. DirectAdmin: How the Control Panels Compare in 3 Key Areas
As you can see, cPanel and DirectAdmin share some similarities. For example, both offer free SSL certificates and Linux support. In addition, they both provide a server configuration framework and a graphical user interface (GUI). However, this isn't all. Let's take a deeper look at their differences.
1. User Interface (UI)
cPanel comes with a user-level interface as well as a server management interface (WHM). The features are split into collapsible categories, making it easy to find what you're looking for. It also offers direct access to a wide variety of tools and features: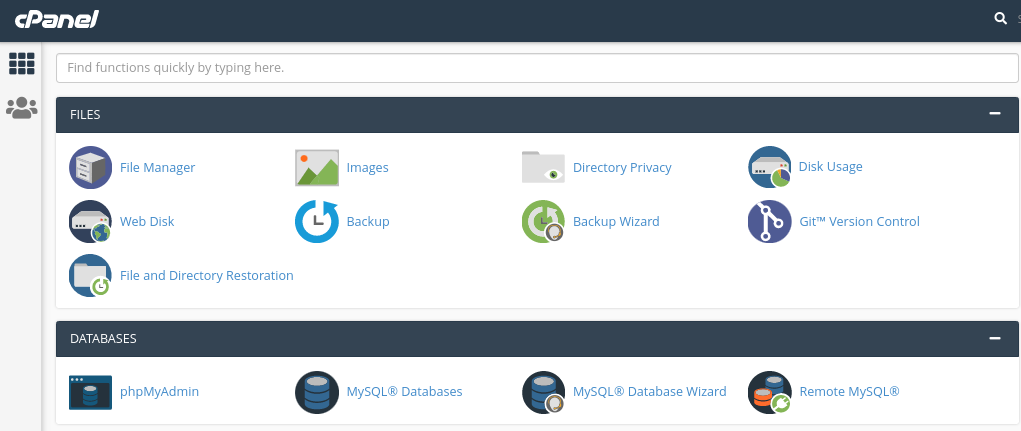 The main difference in terms of usability for the cPanel vs DirectAdmin interface is that DirectAdmin is less overwhelming: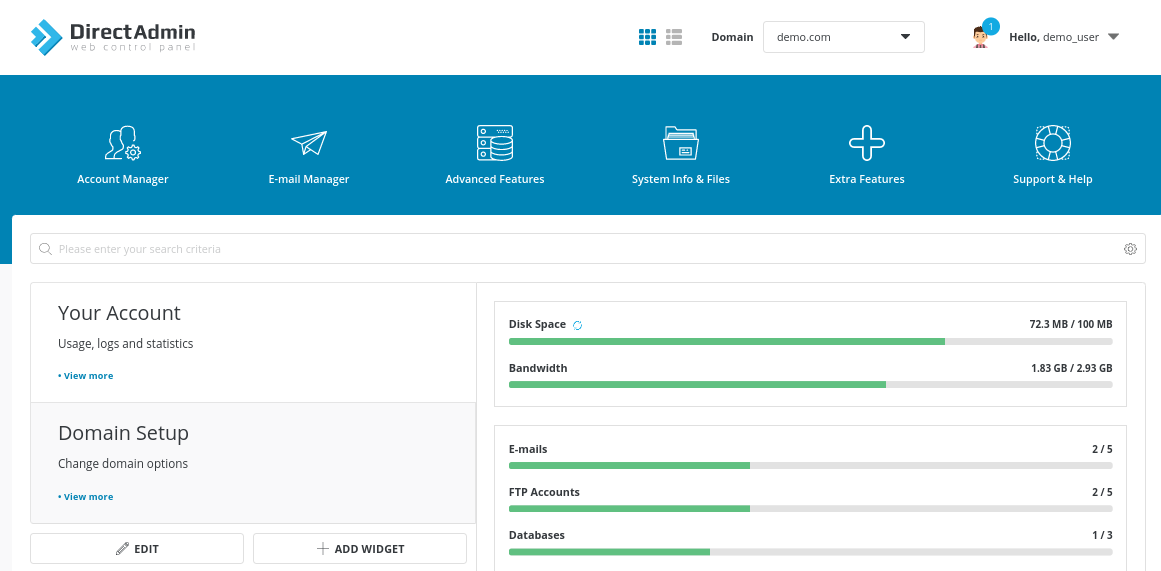 The DirectAdmin UI has four main categories (Email Management, Advanced Features, System Files, and Your Account) and four interface styles. There are three access levels: Admin, Reseller, and User. However, they can be merged into a single interface.
Although DirectAdmin may seem cleaner and simpler when you first log in, it can also make finding what you need more difficult than cPanel. The best way to determine which control panel has a UI you prefer is simply to try them yourself.
On the cPanel website, you can take a virtual tour of both the cPanel and WHM interface. In contrast, DirectAdmin lets you preview a live demo of the dashboard. You can try it from each access level, as well as the different interface styles it comes in.
2. Third-Party Apps and Integrations
When it comes to available plugins, cPanel offers far more than DirectAdmin. It also includes custom code options to extend the functionality and expandability of the control panel. While DirectAdmin lets you choose from plugins to extend the functionality, they can be limiting.
Third-party integrations and apps can make managing and maintaining all aspects of your hosting accounts easier. Therefore, it's important to consider which tools you either currently use, or will use in the future. For example, if you're using automated billing software or other hosting account management services, you might consider the integration options for either control panel.
At Clientexec, our automated billing and client management software can easily integrate with either. We offer both a DirectAdmin plugin and a cPanel plugin, and you can use them to link to the client area; create, suspend, and terminate accounts; and much more.
3. Pricing
When you're shopping for the right control panel for your hosting needs, price is likely an important factor. There was a time when cPanel was the go-to choice for most hosting providers.
However, in 2019, cPanel significantly raised their prices, causing some people to switch to another solution (including DirectAdmin). DirectAdmin licenses cost less than cPanel, though they have slightly fewer options.
DirectAdmin pricing technically has four tiers, including Personal ($2 per month), Lite ($15 per month), and Standard ($29 per month):
They also offer a free, 60-day standard license you can try before committing to a paid license.
cPanel offers four pricing tiers, ranging from Solo ($15 per month) to Premier ($45 per month):

Similar to DirectAdmin, cPanel also offers a free trial license. However, it's for 15 days, not 60.
Why You Might Consider Switching from cPanel
When many think of web control panels, it's cPanel that comes to mind. They've been an industry titan for over 20 years, offering a powerful platform for all company sizes.
However, due in large part to the spike in licensing costs, you may not find it the most cost-effective solution (much like many hosting providers.) If this rings true for you, DirectAdmin is a budget-friendly alternative that comes with virtually everything you would expect or need from a control panel.
Conclusion
Your choice of control panel plays an integral role in the overall hosting account management experience. Therefore, it's important to spend some time researching and learning about the differences of each before committing to one.
In this article, we took a look at two popular control panel options, cPanel and DirectAdmin, to see how they compare on three key areas:
User Interface. Both have clean, modern interfaces. While DirectAdmin is less overwhelming, cPanel can make finding what you're looking for easier.
Third-party apps and integrations. There are many cPanel cost-effective plugins and addons to choose from. DirectAdmin offers fewer addons and they tend to be far pricier. Clientexec integrates tightly with both DirectAdmin and cPanel.
Pricing. DirectAdmin is less expensive than cPanel, making it a worthy option for those looking for a budget-friendly solution.
Do you have any questions about cPanel vs. DirectAdmin? Let us know in the comments section below!