If you've been using Clientexec for a while, then you know that every new version comes with exciting new features. For each release, we aim to make your life easier by providing you with the tools you need to run your hosting business effectively.
Clientexec 7.0 is a significant milestone for our hosting automation platform, and we want to share some of its most exciting features with you before the official launch. Let's get right to it!
1. Redesigned Admin Area
Since the admin area is where you spend most of your time, it has to be easy to use and provide you with quick access to the metrics you want to follow. With that in mind, Clientexec 7.0 brings with it a redesigned admin area that makes it even simpler to find the tools and sections that you need.
As soon as you log in, you'll get a full overview of the state of your business, including metrics such as:
Overall clients

Estimated revenue per month

Number of invoices generated versus paid

Outstanding support tickets and closed support requests
You'll be able to spot potential issues right away, so you and your team can deal with them efficiently. The Reports tab now provides you with access to more data about your business's health, and the Tickets page received an overhaul as well. The new interface has been designed to make all the key areas of your business easily accessible.
Beyond giving you easier access to critical information, our new admin area brings with it an improved User Interface (UI). The entire dashboard has been made responsive, and in our opinion is a joy to interact with.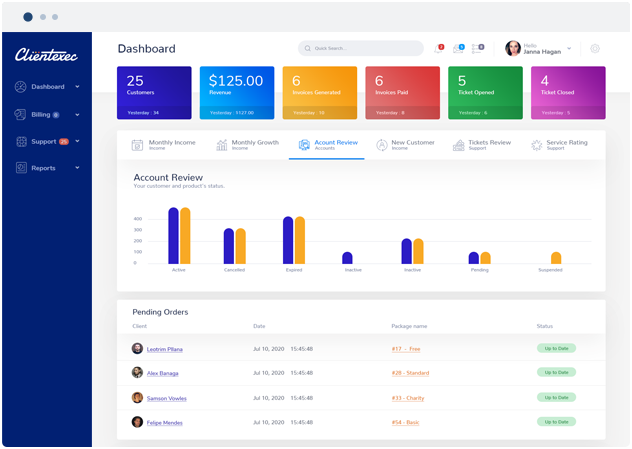 2. Refreshed Client Area
The admin area isn't the only part of Clientexec that's going to get a full overhaul. Now your clients will be able to manage their accounts more efficiently, thanks to a redesigned client area.
Just as with the admin area, your clients will also be able to have a pleasant experience with an overhauled UI. The information they need will be readily available, including outstanding balances, account statuses, information on the number of products they've signed up for, and any open support tickets they might have.
Although none of those features are new to Clientexec, we've redesigned the entire experience from the ground up to make every action that your clients need to take more intuitive. Even browsing the client area from a phone is much more straightforward now. As a bonus, we will even be adding a dark mode to the client interface for clients who prefer that style of interface.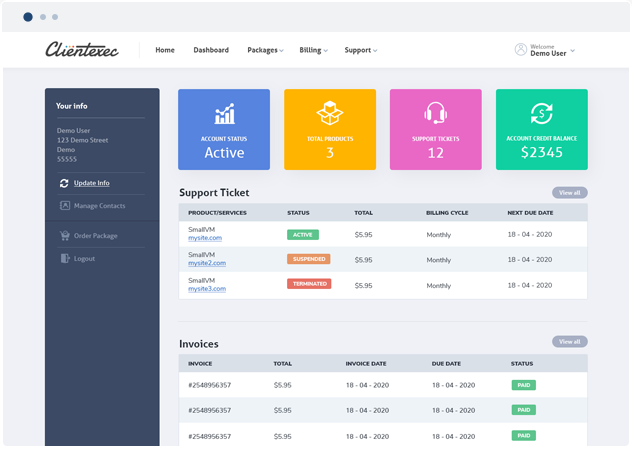 3. New Order Forms & Foundation
It might not seem so at first glance, but order forms are one of the most critical elements for any hosting business. Without intuitive order forms, the entire checkout experience falls apart. With that in mind, we decided to take a close look at our existing order form templates, and see how we could optimize them to help you increase conversions.
The result comes in the shape of two new product order forms, and an extra option for domains. These new forms are easy to customize, and they're designed to reduce distractions giving your clients a smoother, frictionless checkout experience.
It doesn't end there! Since version 6, we have been gradually releasing under the hood enhancements to the foundation of the order process, with the largest change coming in version 7 which will provide limitless opportunities for custom order form designs. With that, throughout the version 7 series, we will be releasing various order forms in one-step, two-step, and three-step layouts.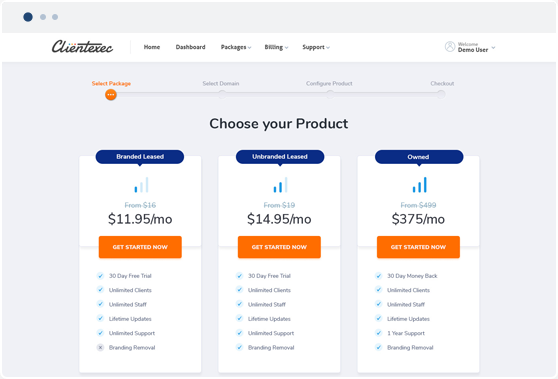 4. Fully-Functional Hosting Affiliate System
Most of the biggest web hosting companies run affiliate or referral programs. In fact, hosting affiliate payouts are among the most lucrative for marketers. That's because, in a lot of cases, new clients are willing to pay for years of hosting upfront. This is not something you see in a lot of other industries.
Clientexec already enables you to automate most of the other parts of running a hosting business, and now it will come with a fully-fledged affiliate system built-in. Using that system, you'll be able to design the perfect affiliate program for your needs. You will be able to:
Provide affiliates with unique referral links

Tracks visits, sales, commissions, and conversion rates for each affiliate

Enables affiliates to configure payout settings and request withdrawals

Lets you configure minimum withdrawal limits and determine how long affiliates have to wait to request a payout

Flexible commission structures made easy, be it one-time or recurring commissions

Enables you to offer percentage-based or flat-fee commissions
With all of these features, you can design an affiliate program that's unique to your hosting business. Clientexec will handle the behind-the-scenes work, so you can focus on promoting your affiliate program and growing your business.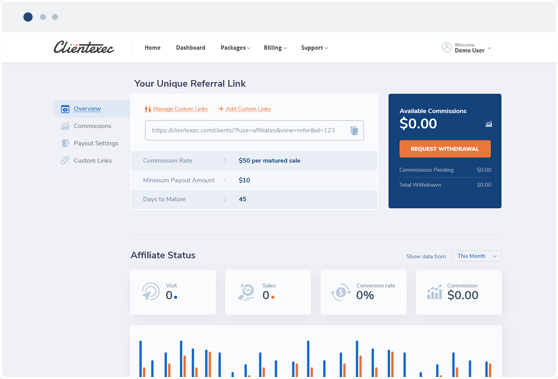 Conclusion
Clientexec 7.0 will be the largest update we have ever made to the platform. With this version, you're getting a lot of exciting new features along with the tools you already use to run your hosting business.
On top of a revamped UI for the admin and client areas, Clientexec 7.0 also reworks order forms from the ground up. You'll also get access to a fully functional affiliate system that will enable you to scale your business dramatically, all within one platform.
Version 7.0 is currently scheduled for release in Q2 2021.