Running a web hosting company is challenging, but this is multiplied when you're overseeing (and trying to complete) every task manually. Relying on inefficient methods to operate your business can hamper both the quality and profitability of your services.
However, incorporating automated solutions can streamline your workflow and make growing and scaling your business easier. In addition to helping you deliver a seamless service to your clients, delegating certain processes can free you up to focus on opportunities for improving your bottom line.
In this post, we'll explain the benefits of automating your hosting business. Then we'll discuss the three processes that make the most sense to delegate, as well as some tips for choosing an automation platform provider. Let's get started!
How Automation Can Benefit Your Hosting Business
The operational mechanisms you use to perform essential 'business-critical' tasks play a pivotal role in its success and profitability. This includes:
Facilitating and managing account and product provisioning
Establishing and handling billing, invoicing, and payment processes
Delivering, tracking, and executing customer support
Trying to manually manage all these areas is tedious and time-consuming, not to mention costly.
It's time that could otherwise be spent on scaling and improving your business. For example, if you were to delegate the bulk of the work involved in these tasks, you could have more time to:
Generate and nurture leads
Expand and enhance your market initiatives
Build client relationships
Gain deep insights into your business and identify opportunities to improve
Automation platforms are centralized solutions you can use to streamline your workflow and operations to deliver a better experience for both you and your clients. By integrating all your processes and tools in one place, you minimize the risk of missing client emails, forgetting to send or collect payments, or wasting time and money juggling between isolated, fragmented systems and third-party applications.
Adopting an automated approach for your key processes can help you establish a more connected, cohesive, and ultimately profitable organization. With the right platform, all the heavy lifting is taken care of for you. You'll have access to technologies, tools, and integrations that simplify every aspect of business and client management.
Billing, invoicing, product provisioning, and customer support are just some of the ways automation can help optimize and enhance your business model. It can even make it easier to expand your offerings to include products or services you wouldn't otherwise.
3 Processes You Can Safely Delegate or Automate for Your Web Hosting Company
To make the most of your time and effectively serve your clients, it's important to be strategic about which aspects of your business you automate. Let's take a look at three processes you can safely delegate or automate for your web hosting company.
1. Customer Support
A strong level of customer service is a necessary ingredient of any successful company. This is particularly true with web hosting, where clients often require technical support and guidance.
However, without the right strategy and tools, managing client communications can be stressful and chaotic, especially if you're relying solely on email. The more customers you have, the harder it is to stay on top of questions and inquiries and get back to them in a timely manner. There's also the risk of missing important emails or forgetting to check other channels, such as social media.
Automation can help you consolidate, strengthen, and streamline your client communications in a variety of ways. For example, you can leverage a ticketing system to make tracking, managing, and prioritizing tasks easier: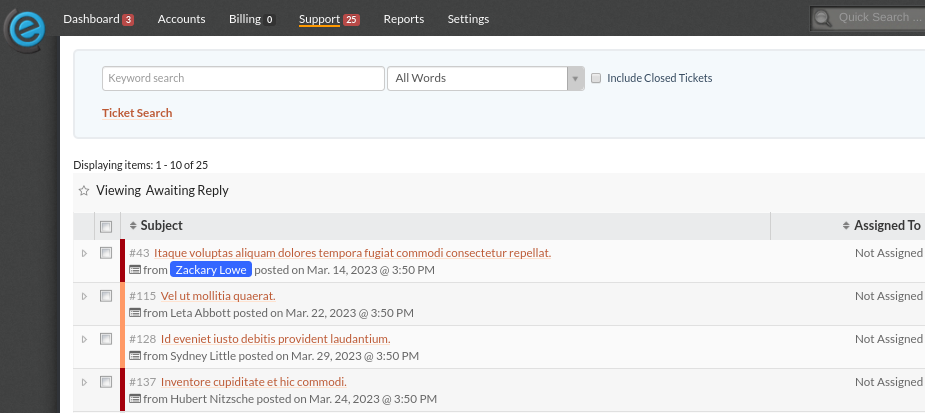 To heighten the convenience of client communications, you could also implement a knowledge base so clients can quickly find the information they're looking for. In addition, a live chat tool that produces communication logs makes it easier to understand, address, and reference clients' inquiries and history.
By automating your customer support operations, you can reduce the time spent on finding and answering emails, as well as searching for the information you need to address an inquiry. You can intelligently track and manage customer communications across multiple channels, all from one place.
2. Billing and Invoicing
When you're trying to drive revenue and increase the earnings from your hosting company, one of the worst mistakes you can make is trying to manually handle your billing and invoicing processes. It leaves too much room for error and increases the chances of you forgetting to distribute invoices, incorrectly calculating costs, and overlooking other critical elements that may result in money lost.
Automated billing solutions make it easy to:
Create flexible billing models that support the specific needs of your hosting plans
Quickly generate and distribute professionally branded invoices
Setup recurring billing and send payment reminders, customer receipts, etc.
Integrate and manage multiple payment systems and gateways
Automatically calculate and adjust taxation levels, currencies, discounts, etc.
An automated billing system also makes it easy for you to update and track customer reports and records. You can quickly view and sort invoices by status and identify outstanding or overdue payments.

Another benefit of using an automation platform for your billing and invoicing needs is how you can integrate it with customer support and account management for knowledgeable event management. For example, if a client contacts you to inquire about pricing or plan upgrades, you have everything you need to understand and serve their request.
3. Product Provisioning and Domain Registration
Automatic provisioning can help simplify the process of selling hosting products and services. Self-service portals can let clients purchase and customize packages: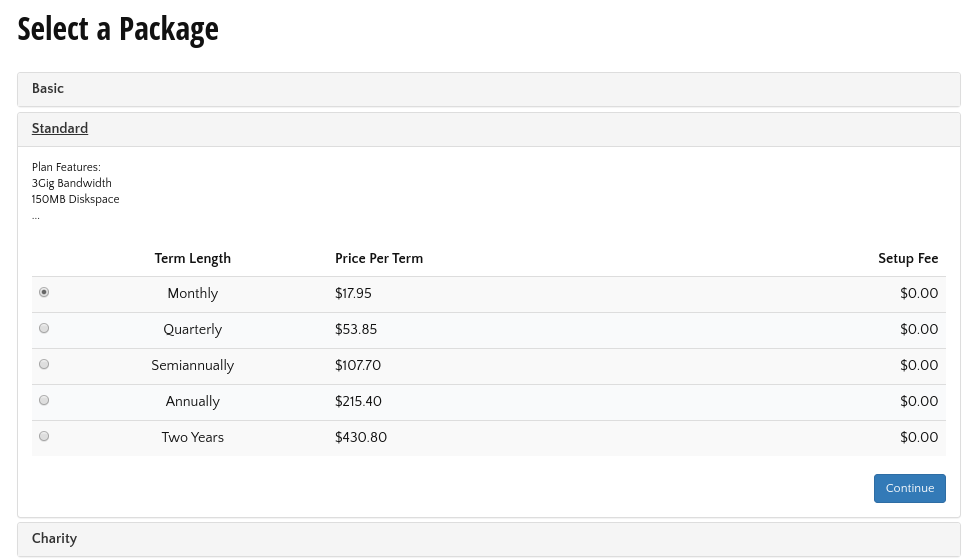 You can use automation to seamlessly integrate and provision the applications and platforms you already use, including control panels such as cPanel and DirectAdmin. Additionally, automated solutions can help you expand and enhance your offerings. For example, you can leverage domain registrar integrations to make it easy for your hosting clients to register, renew, and transfer domains.
Automatic provisioning can also improve account management. For example, you can use your platform for quicker creation, modification, suspension, and termination of accounts.
Tips for Choosing an Automation Platform
Once you decide you're ready to shift to a more streamlined and efficient business model, the next step is figuring out how to go about it. While you could find a variety of tools and applications to use for each individual process, a better solution is to use a platform or provider capable of handling every process you want to delegate or automate.
When looking for an all-in-one automation platform, there are a handful of factors to consider, including:
Integrations. One of the most important is the integrations they offer for control panels, payment gateways, and domain registrars. To minimize disruption to your current operations, it's best to find one that supports the platforms you already use. This includes control panels, payment gateways, and domain registrars.
Reporting. One of the advantages of leveraging technological tools is that they allow you to collect a plethora of data to better understand your business. Therefore, it's smart to look for a platform including advanced and detailed reports for generating, organizing, and interpreting key insights.
Pricing. Not all web hosting companies are the same, so it's wise to choose an automation platform provider with multiple plans and pricing.
At Clientexec, we offer an all-in-one solution for hosting providers to put their business on autopilot. From automated billing and customer support to automatic provisioning and advanced reporting, we provide everything you need to put your business on autopilot. Plus, we offer competitive pricing, which is ideal if you're looking for a more affordable WHMCS alternative.
To get a better idea of our unique and innovative offerings, feel free to try a demo of our automated platform. If you're ready to get started, you can choose from one of our plans and signup to start your free trial!
Conclusion
Effectively running and scaling your hosting business is no simple task. However, it's significantly easier when you're able to automate the most critical yet time-consuming tasks.
As we discussed in this post, there are three processes you can automate or delegate to streamline operations and increase the profitability of your web hosting business:
Customer support. Rather than juggle a variety of communication platforms and risk missing inquiries, you can automate customer support through an intelligent ticketing system, live chat, and knowledge base accessible from a single portal.
Billing and invoicing. Automated billing and invoicing save time and money by providing a quick way to generate, distribute, and collect payments.
Product provisioning and domain registration. Control panel, payment gateway, and domain registrar integrations can help facilitate automatic provisioning and make it easier to manage accounts and plans.
Do you have any questions about automating your hosting business? Let us know in the comments section below!